The Role of Outside Agencies
As well as being helped by the School staff, your child will meet people from various outside agencies who are there to provide advice and help, and thus support our concerns with the development of the whole child.
Please remember that these people are all very approachable, and are there to help - not to criticise or condemn.
Parents are of course informed in adavnce of visits to the School that will involve their child.
---
School Nurse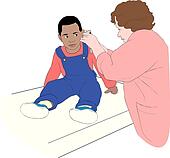 The School nurse sees the children in their first year of full-time School and may recommend a medical with the doctor. The nurse checks hearing, vision, height and weight and will also conduct health interviews with you as a parent concerning your child.
---
School Doctor
The doctor carries out a thorough check of the child. You are informed when the medical will be. You will appreciate how important it is to attend to discuss your child's welfare and development. Any problems are then identified and can be dealt with at an early stage.
---
Dentist
Dental checks are made periodically. Again parents are informed when this will be. Any follow-up treatment can be arranged with the School dentist or your own practitioner.
---
Educational Psychologist
The Educational Psychologist offers more specific advice for children with learning and behavioural difficulties, suggesting action to be taken.
S/he offers help to parents and teachers when dealing with these difficulties.
---
Educational Welfare Officer (EWO) and Education Welfare Assistant (EWA)
The Educational Welfare staff deal with long or frequent absences from School and, again, often visit the home.
---
Speech & Language Therapist
Children who have been referred for additional support will receive therapy in school. Classroon support staff will attend the session so that they can carry on supporting to your child between therapy sessions. You will also be given ideas to follow-up at home.